| | | | | | | |
| --- | --- | --- | --- | --- | --- | --- |
| 00 | : | 00 | : | 00 | : | 00 |
| Days | | Hours | | Mins | | Secs |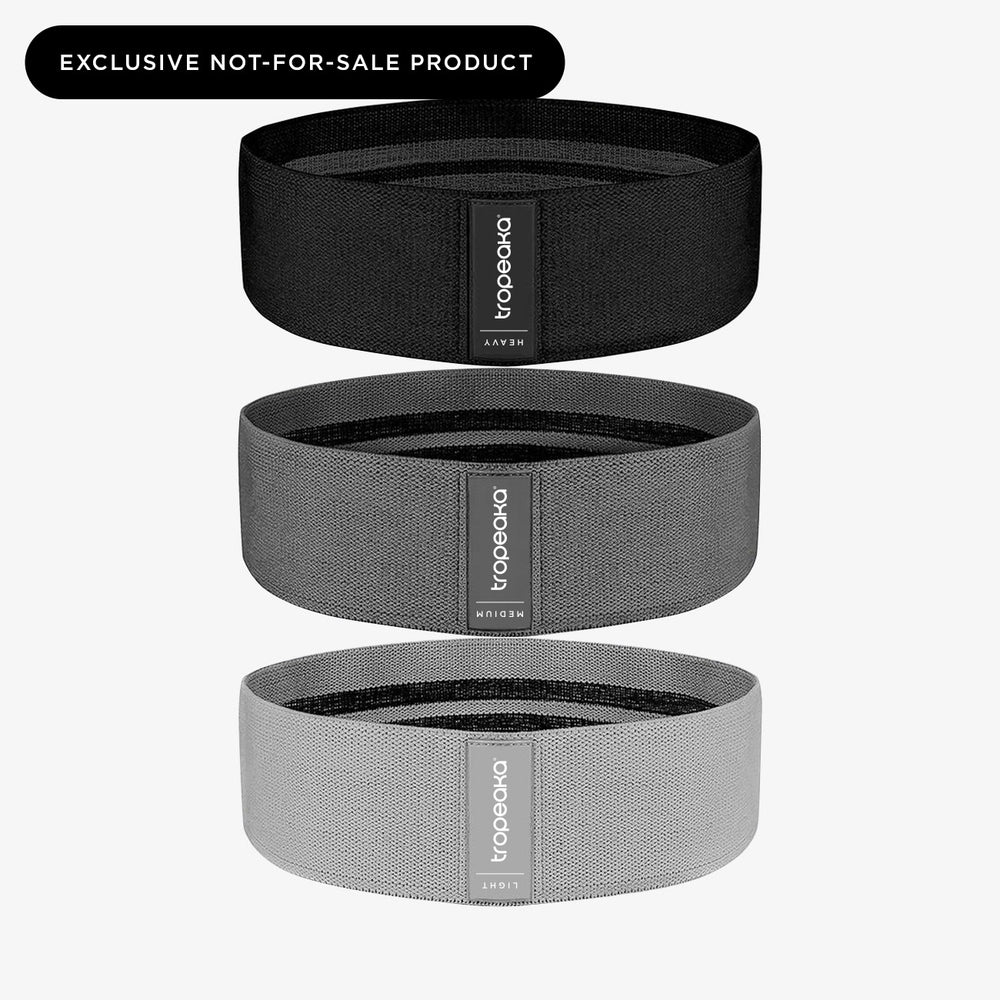 Product Information
The not-for-sale, exclusive Tropeaka Resistance Bands allow you the freedom to enjoy your favorite workouts anytime and anywhere!
There are 3 levels of resistance so that you can choose the intensity of your workouts!
The durable, high-quality fabric is also slip resistant and has a non-curling design to ensure your resistance bands work as hard as you do.
30 day money-back guarantee
*Money-back will be a refund on one product item (excludes the price of shipping) bought from the Tropeaka website. The 30-day period begins when your tracking says your order has been delivered. Your order number will need to be provided in order to receive the refund. Refunds will only be placed back on the same method of payment that the order was bought on. You must contact our customer service within 30 days of the product being delivered. Maximum of one item being refunded per person. The 30-day money-back guarantee is only available to customers in Australia, NZ, USA, Canada, UK & Germany. Nothing in our terms attempts to modify or exclude any of your consumer law rights, including rights under the Australian Consumer Law.
Free Shipping Info
🇺🇸🇨🇦 US & CANADA FREE SHIPPING
FREE US & Canada Shipping for orders over $140 USD
ALL OTHER INTERNATIONAL DESTINATIONS
We ship from Sydney, Australia. All other destinations have FREE Shipping for orders over $245 USD (not available for DHL Express)
INTERNATIONAL SHIPPING (outside of Australia) is sent via International Tracked Shipping or DHL Express.

AUSTRALIA WIDE SHIPPING
Free Shipping for orders over $55 USD via Aus Post.
Aus Post Express Shipping is also available.

NEW ZEALAND SHIPPING via International Tracked Shipping or DHL Express
FREE Shipping for orders over $125 USD
Resistance Bands
or 4 easy payments of
$7.50 USD
with
or
TRUSTED BY THE EXPERTS
*While these statements are based on the endorsers own views and experiences, Tropeaka advises that the endorsers have received valuable consideration in exchange for Tropeaka's use of these statements on Tropeaka's website and in its promotional materials.
AS SEEN ON








RATINGS & REVIEWS
Want to write a review? Look out for an email from Tropeaka 30 days after purchase.
Reviews powered by
MY CART
WANT 7% OFF YOUR ORDER?
WANT 9% OFF YOUR ORDER?
SORRY!
Login or Sign Up
RESET YOUR PASSWORD
We will send you an email to reset your password.
Region & Currency
Select Region